Sugar Free/ Dairy Free/ Gluten Free - Are you ready?
I have mentioned multiple times my frustration with the high amounts of sugar pushed on us and my many food intolerances, well as I stick with a gluten free diet I have strayed from the strict diet I once followed and can tell. I'm sure it is a combination of this never winter and high carb, processed food intake but I am lacking energy and quite headachey lately
L
Last weekend I started thinking it was time to get strict again. The gym is offering a 4 week detox but me not working doesn't bode well with paying to give up foods so I was thrilled when Laura suggested a sugar detox. I am taking it one step further and also giving up processed foods and all animal products, gluten (duh!) and sugar. Sorry can't do the full thing and give up my coffee, but more power if you can.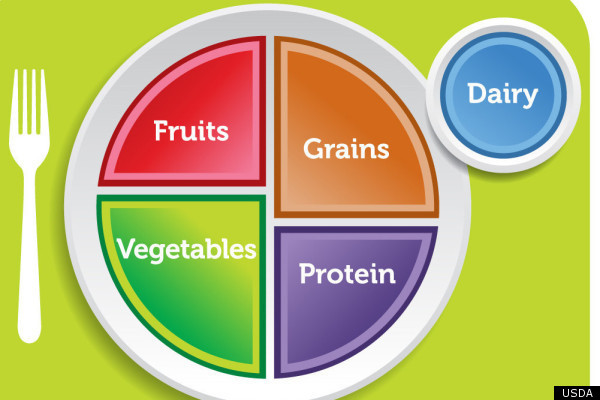 Is this how you eat? Do you see any problems with the breakdown? Notice sugar/treats is now missing!
Laura did a great job talking about the The Sugar Addiction so I will focus on the reasons to give up sugar as well as the other ingredients.
Sugar
Refined "processed" sugars are found in many foods and can result in obesity, tooth decay, increased blood sugar and high triglyceride levels (Source). We often reach for sugar when hungry and then quickly crash from the spike leading to a sugar-crash cycle. While I avoid refined sugar in my cooking I eat many processed foods and experience this almost daily. Remember alcohol is high in refined sugars.
Gluten
is the protein found in wheat and can lead to inflammatory response in many, while it is something that we hear a lot about in celiac most people do not need to give up gluten. Those who have an allergy or intolerance need to avoid gluten but most others should focus on the change to whole grains and avoiding refined "white" grains. I can tell you first hand that a full gluten free diet is tough, but for me well worth it. If you have GI issues, headaches, fatigue or decreased energy you might want to give it a shot? (Source).
When's the last time this was dinner?
Animal Products
Dairy is the one animal product I frequently eat, while I don't drink milk I do enjoy cheese and yogurt but the side effects of dairy in particular are huge; congestion, GI problems (75% of people can't fully digest dairy), sinus problems and allergies. Our bodies weren't made to digest dairy and going dairy free can improve sinus problems, post-nasal drip,

headaches

,

irritable bowel syndrome

, energy, and weight (Source). While I could go on forever on giving up meat I won't, but instead just encourage you to think about why you find it necessary to eat and think of other healthier sources of protein. Give it a try, no meat for 7 days, much easier than you would think, it has been nearly 4 years for me (no read meat and minimal animal products for almost 20 years) and I don't miss it
Are you in? What are you giving up?
Make sure to go to Laura's post and sign up. Take the next few days to plan and be ready to start on Monday morning. Next week come back and share a recipe you discovered and a great resource.